Common harmful products, foods and objects
As your pet is busy enjoying life, you must be aware of those potential hazards that could injure or harm your dog. Prevent accidents from happening. Remember pets are persistent and can get into areas that are restricted.
If your pet does get into potential poison, contact your veterinarian or poison control center.
ASPCA's Animal Poison Control Center: 1-800-426-4435
Harmful Household Products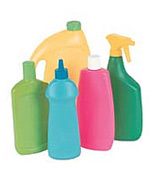 Human and veterinary drugs (flea and tick products)
Pest products (rat poison, pest baits)
Cleaning products and room fresheners
Solvents, paint thinners and adhesives
Tobacco products
Stagnant water
Automobile products (antifreeze and windshield fluid)
BBQ grill (ashes, charcoal and lighter fluids)
De-icing chemicals
Moldy compost and cocoa bean shell mulch
Lawn care products (plant fertilizers and weed control)
Harmful Household Objects
Plants including: aloe, azalea, clematis, daffodil, lily, fern, dracaena, hydrangea, philodendron, hyacinth, poinsettia, yew, rhododendron
Plant bulbs, berries, pine needles, leaves and buds
Sharp objects (scissors, knives, nails, pins)
String (floss, thread, ribbon, yarn)
Small items (buttons, twist ties, coins, q-tips, paper clips, rubber bands)
Batteries
Candles
Electrical cords
Small toys and balloons
Hot food containers
Holiday decorations (fake grass, angel hair, tinsel, ornaments, and hooks)
Styrofoam
Harmful Foods
Avocados
Chocolate
Coffee and tea
Onions and garlic (including powder)
Grapes and raisins
Macadamia nuts
Alcoholic beverages
Raw yeast dough
Foods sweetened with xylitol (gum and candy)
Spoiled, fatty or salty foods
Bones (cooked and poultry)